Mr. Patrick Lumbroso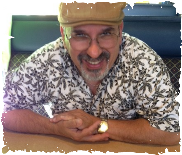 Patrick Lumbroso was born in France from a Jewish Tunisian family. As a result, he was raised in a multicultural environment. At the age of 14 (1973), he emigrated by himself to Israel and from that time has extensively traveled covering Eastern and Western Europe, as well as countries in S.E. Asia and the Middle-East. In 1995 he arrived in America with his Portland native-born wife that he met in Paris, and their six children. He and his wife have homeschooled their six children and have been teachers in Christian outposts around the world. They are still both teachers to this day. Along with teaching several subjects of Social Studies, Patrick is a published author. Two of his devotionals were published as well as a commentary on the Book of Revelation. He and his wife are accomplished musiciens with 4 published CD's of Messianic style music. Every summer, they tour around the States to lecture and hold concerts. Patrick and his wife run the Yedidei Adonai Jewish Messianic Fellowship based in Estacada.
---
Preferred method for tuition payments:
Cash
Checks to: Patrick Lumbroso
Venmo
Zelle
PayPal with the inclusion of the PayPal fee.
Current Classes Instructed by Mr. Patrick Lumbroso
Constitutional Literacy (closed)
Current Events (closed)
French (closed)
World Literature Through Movies (closed)