Vern Cox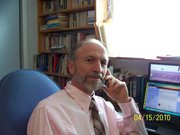 Vern A Cox is currently a Well-Being/Life Coach and Educational Mentor. As a Life Coach he focuses on helping others find Well-Being through Personal Empowerment, Relationship Enhancement and finding one's Soul Purpose. He writes, presents workshops and conducts individual coaching sessions. He loves sharing what he has learned in his life's travels. His teaching goal is to make people think, question and clarify their beliefs. Because he is concerned about the loss of our freedoms and our country turning away from the Constitution, as an avocation Vern teaches seminars on the proper role of government and the principles of freedom. For a year and a half Vern worked as an educator/consultant on freedom, government, and Constitution for a conservative think tank. Vern also serves as a mentor in classes at schools and home schools on such topics as Biblical Hebrew; Argumentation: The Art of Persuasion; The Principles of Freedom: Understanding the Constitution; Psychology; Math for Everyday Life: Understanding Numbers; Introduction to Computer Programming; and Education through Reading the Classics, Discussion and Writing (at times focusing on American authors, Literature of the American West, Fantasy / Science Fiction and Myths and Legends).
Vern recently served on the Board of Paradigm High School. He has taught high school learning disabilities, worked 23 years as a psychotherapist, 11 of those years as the Executive Director of a two-county mental health and substance abuse treatment center. He has a Ph.D. in Marriage and Family Therapy. He is happily married; he and his wife, Joyce, enjoy their seven children.
Qualifications:
– Ph.D. Marriage and Family Therapy
– Twenty-three years as Psychotherapist; 11 as Executive Director; 6 years as Well-Being Life Coach; led many groups.
– Presenter at conferences on topics such as: Well-being; Self-Healing Personality; Stress Reduction; Addiction; How People Change; Mindfulness; Parenting; Proper Role of Government
– Mentor of various classes.
– Teacher in one capacity or another all my life.
Current Classes Instructed by Vern Cox
High King Quest - TF Block 1 (open)
High King Quest - TF Block 4 (open)
History of Freedom - Activities/Simulations (open)
OPTIMIZE Your Brain (open)
High King Quest - WF (open)
Leadership Seminar (open)
Biblical History (open)
High King Quest - TS Block 1 (open)
High King Quest - TS Block 4 (open)
The American Revolution - Project & Simulation (open)
High King Quest - WS (open)