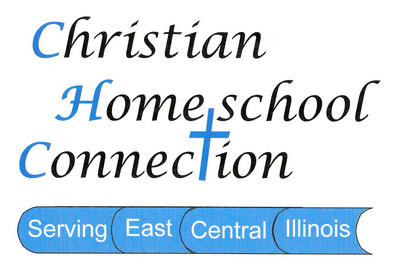 Welcome to our Website
Christian Homeschool Connection is a network that exists to support Christian homeschool families in Champaign-Urbana and surrounding communities. Our group's membership includes over a hundred families with children of all ages and with a wide variety of homeschooling styles. We do not meet as a co-op per se, although we do include co-op classes as optional activities through Family Center. Our members also form smaller co-ops among themselves through our Forum, and many of our members belong to co-ops outside of CHC. We have occasional large group gatherings such as picnics in the spring, summer, and fall and ice skating in the winter. Our main purpose is to connect homeschooling families, to enable them to support each other through field trips and social activities, to facilitate contact between new and veteran homeschoolers, a forum for the exchange of teaching techniques and curriculum ideas. It is a place to reach out to others to plan group activities ranging from mothers' nights out to play groups to co-op classes or anything else members want to do with other homeschooling families. We also inform members of issues and events of interest to homeschooling families in the community and state and we represent homeschoolers to the wider community.
2015-2016 Memberships are being accepted now. If you have any questions please contact the web director at chc.homeschoolers@gmail.com or nicolfamily@gmail.com. If you have questions specifically about the Family Center please direct them to familycenter-1@comcast.net For more information about the Family Center click on this informational link.
In order to login to our website, you must first become a member by filling out a membership form and paying the annual dues ($30/family/year $15/family/half year*). Please fill out a web access form as well, both of these forms are on-line. Our membership year runs from July 1st of any year to June 30 of the next year. The link is at the top of this page, both forms are together.
Early bird special runs from May 1 - May 31 each year, renewal or new members pay only $20.00.
*Joining any time between June 1-January 31 of any year your dues will be $30.00 per family for the entire year. For a partial year beginning February 1 or later your dues are $15.00 per family. All membership renewals are done during the month of May each year and a discount for renewals is given during that month for new and returning families.
Please make checks payable to CHC or Christian Homeschool Connection and mail to:
CHC
Care of: Deanna Cenzano
501 Buttercup Dr.
Savoy, IL 61874
After your membership has been received and processed, we will get you on the website. Renewing members do not have to fill out a web access form but all new members will have to fill out this on-line form as well. Please write down your user name and password as these are case sensitive for each family. After you receive an "approval" e-mail response (usually within 24 hours), you are then free to access the website which contains many features, including a CHC events calendar, a classifieds section, a forum for discussing homeschool related questions, and a weekly e-mail reminding you of upcoming events.

If you have any questions, please e-mail us at chc.homeschoolers@gmail.com. You may also email board member Elizabeth Nicol directly at nicolfamily@gmail.com.
Needing some help in making the homeschool decision? Where should you start?
Homeschooling in the news
provided by HomeSchoolBuzz.com