EMAIL LIST
Not quite ready to become a RHC member? Sign up for our email list.
This is for non members who would like to stay in the loop with RHC public events and updates regarding our programs and activities. RHC member registration remains open all year. Click "Join" at the very top of the page to register for membership (on mobile it's the person icon wth the + symbol).
We will email updates every month, or less. You can opt out at anytime.
Simply click and complete this form to be added to our email list.
Welcome!
Welcome to Redwoods Homeschool Community!
Redwoods Homeschool Community exists to reflect the love of Jesus Christ by cultivating community for homeschooling families through teaching and learning, enrichment activities, and community service.
We are a member based homeschool community of families from many towns. We primarily meet in and near Bristol, CT. We are not strictly a co-op. Redwoods Homeschool Community members have access to RHC Programs (which may be cooperative), field trips, recesses, teen events, mom's nights, holiday parties, etc. Families are asked to either volunteer teach or serve on an action committee. Families can choose to participate in as much or little that fits their needs.
Membership is for homeschool families in CT and is $65/ year per family for July 1st, 2022 - June 30th, 2023 (membership fee is discounted to $45/ year in February). RHC member renewals end June 30th.
Redwoods Homeschool Community embraces Biblical principles, however, we do not ask for or require members to sign a statement of faith. We ask that all members follow the Code of Conduct.
You are invited to join if you are home educating at least one child (grades K-12) according to CT state law. See FAQ's for Seedling Membership info.
To become a RHC Member:
1st. Attend a Meet & Greet + talk with a RHC leader.
(please sign up to attend one of our monthly Meet & Greets by going to our calendar)
2nd. Complete registration + pay the membership fee. (click "Join" at the top to fill out the form, after completing the form it will prompt you to make a payment)
For more details please see Redwoods Membership, FAQ's, and Guidelines in the main menu.
Announcements
Summer:
New member registration is now open. Our next meet and greet is August 9th.
Fall class registration is August 16-18, must be a member to register for fall classes. Classes start Sept. 6th.
GAB Club registration is Aug 23-24, must be a member to register for GAB. GAB starts Sept. 9th.
Fall Sports Club registration deadline is August 31st, must be a member to register. Clubs begins Sept. 21st.
Not Back to School Party is Weds, Sept 7th from 11-1:00 at Paderewski Park in Plainville. Open invitation to all homeschoolers to come and celebrate a new homeschool year!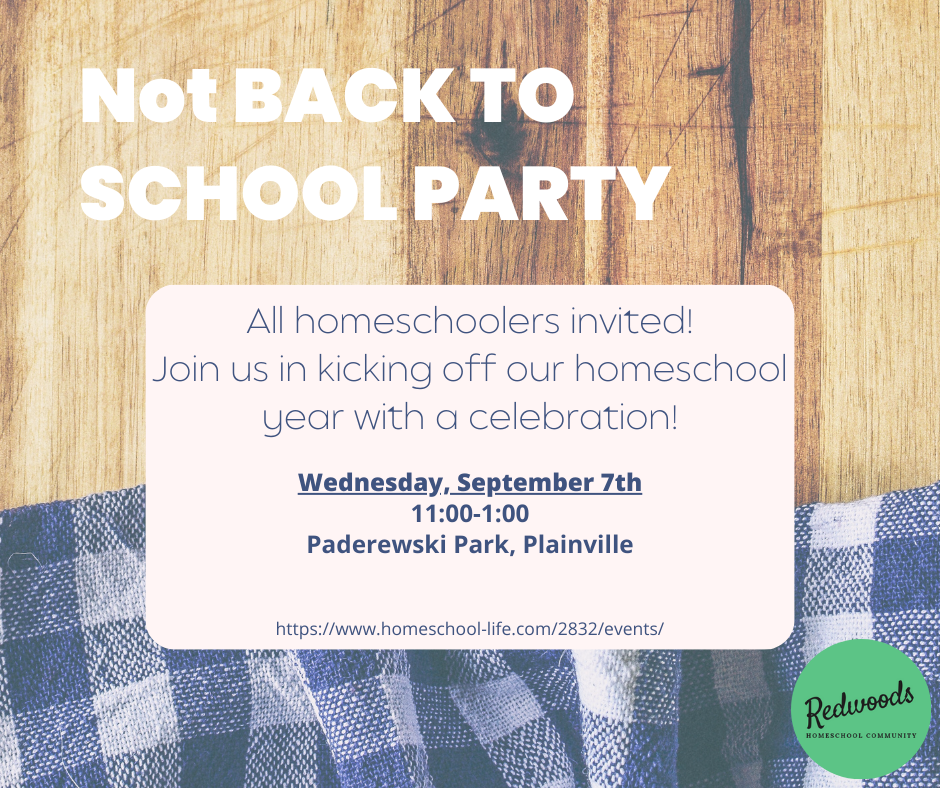 Schole Sisters Homeschool Essentials: Habits (Retreat for homeschool moms). Sign up to attend this day of refreshment and edification! Saturday, October 29th from 9:00-3:45 in Bristol.