General Policies & Information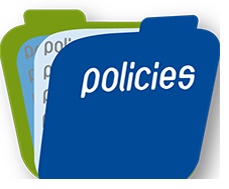 No 'Drop Off' Rule / Parent Participation: Since Thursday School is organized as a cooperative effort by the parents, it is necessary to enforce the no 'drop off' rule. Thursday School is not a Drop Off situation—meaning that every child enrolled must have a 'participating parent' who is at Thursday School the entire time that the child is there. Once at co-op, you are not allowed to leave to run errands, etc. If the participating parent does not follow this rule, the Leadership Team will contact the parent by phone or by letter one time. If that parent offends again, their family's participation at Thursday School may be jeopardized.
Guests/Visitors: Unregistered children may NOT attend Thursday School classes. However, occasional visitors are allowed. Please contact Thursday School Leadership prior to the visit. For security reasons your guests must sign the Guest Log Book, located near the family folders, wear a Guest nametag, and stay with the registered family as much as is reasonable. Please be sure your guest logs out of the Guest Log book.
Nametags: Nametags are stored in your family folder. Adults and children should wear their nametags every Thursday where all can see (not bottom of shirt, backpack or other low visible location). Please return nametags to your family folder after your last block, please DO NOT take home. The fee for a lost or intentionally damaged nametag is $2.00. Broken tags or clips can be replaced at no cost. Ask a leader if you need one replaced.
Our Health and Well Being:
We sanitize the tables before co-op and bathrooms are cleaned. Throughout the co-op day we have the bathrooms sanitized and the Hall Monitors wipe down door handles, light fixtures and common areas. Tables after lunch are sanitized before class starts. Teachers and TA's need to make sure the tables are wiped down before the start of each class. Nursery/Toddler rooms have the toys sanitized and tables are wiped down. Nursery/Toddler Attendants should sanitize toys between blocks at the start of each hour. Wash Hands frequently, or use hand sanitizer, if you or your family are sick, please stay home.
Wellness Policy: Please Respect other students at First Class by NOT bringing a child to school who is exhibiting signs of possible illness. Some of these symptoms are:
1. Fever (100+ or within last 24 hours)
2. Productive cough with fever/sore throat
3. Green or discolored discharge from nose or eyes
4. Rash
5. Vomiting and/or diarrhea
6. Head lice!!
Dressing Guidelines for Thursday School: After much discussion and prayer, and understanding that one person's definition of modesty may differ from another's, we would like to encourage you to mutually respect your fellow brothers and sisters in Christ as you attend Co-op each Thursday.
"Be devoted to one another in brother love. Honor one another above yourself."
Romans 12:10
Please remember that modesty is not what YOU feel comfortable wearing, it is more about what makes those around you feel comfortable. Please consider that we have many different families with different views on this topic. We have an opportunity to extend grace to others by dressing more modestly than we might normally be comfortable with.
Lost and Found: Co-op has a Lost and Found, which is the same as the churchs and can be located in the upstairs hallway by the stairs. Please check for all of your things before leaving. The church facility and co-op do donate items left behind from time to time and neither the co-op nor the church are held responsible if your item are donated!
Snack: Please do NOT bring snacks with whote nuts, or peanut butter in the Toddler and Nursery Rooms) It is now allowed to have nuts, seeds and peanut butter at co-op! Teachers have access to class rosters on website to let them know if your child has an allergy (if you have provided this information on your membership application), but it is also necessary for YOU to talk to each of your child's teachers personally about any allergies to make sure it is noted on the roster. Ultimately YOU are responsible for communicating this information to your childs teachers and YOU are responsible for what your child consumes throughout the day. You are welcome to send a snack with your child to eat during breaks, if they need the extra boost! There are NO red drinks/ juice allowed.
Lunch Time: If you are able to join us for lunch time, we would love to have you with us. Lunch rooms are in the Fellowship Hall downstairs or outside. We encourage you to not leave campus for lunch, unless you don't have classes after lunch. PARENTS are responsible for their children at lunchtime. If High School students leave campus, please know where they are. They are NOT FCKC's responsibility. Remember they represent our co-op when they are at lunch at different locations, we expect they use good judgement and behave appropriately. We do ask that parents take responsibility for cleaning up after their own children, as well as watching over your children during this time.
AGE REQUIREMENTS: In order to attend co-op, you must have at least one child that is in Kindergarten or above.
There is NO eating the sactuary, only in the approved lunch areas or as supervised by a teacher.
On nice days, children are welcome to play outdoors. We will have outside play equipment available, or you may bring something from home, please make sure all is picked up when play time is over. Adult supervision is required. Do not let your child run around unattended!
Chapel: Co-op participants are strongly encouraged to attend chapel. Please keep your children with you, (or in eyes sight to avoid disturbances) during this time. We have praise and worship, a short devotional, announcements, pledges, and a prayer to bless our co-op day. NO phones or electronics during chapel, as it is disrespedtful, and a bad example. This means ADULTS too!
Prayer Time: All periods you are invited to engage in a special time of prayer for our families and our co-op day. If you would like to have prayer time ask Leadership to find a quiet place for your group.
Snow/ice Days: In the event of snow/ice, classes MAY be canceled for the day. Please listen to local news via radio, television or websites. If North Kitsap School District is closed or delayed, co-op classes may be cancelled. Cancellations will be posted on the Facebook group and on our website by 7:30 a.m. (NKSD website @ http://nkschools.org/ ) Classes that prefer a makeup day will makeup that day after our last day of co-op in May.
Parent's Room: This is a place where parents can visit during their free block time. Coffee will be provided (donations are accepted), and parents are encouraged to bring snacks to share with other moms (these are NOT for children!). Join other parents during this wonderful time of fellowship, and encouragement to talk about anything from curriculum choices, to needing prayer, and life in general.
Stewardship of our building. Please pick up after yourself and others if needed. Respect the staff & property of the church by WALKING QUIETLY in the halls and by not going in staff office areas. DO NOT touch sound equipment. Please stay off of the stage and out of the sound room, landscaping beds at ALL TIMES.
Must have a child in Kindergarten in the fall, in order to register for classes.
Also, the following will NOT be allowed on campus: NO BICYCLES, SKATEBOARDS, SCOOTERS OR DOGS