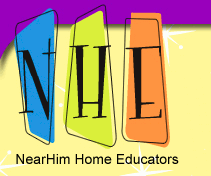 INTERESTED IN JOINING NHE?
Click the Request Membership link at the top of the page for details and to register for membership. Questions? Connect with Mandy Ohmstede our Membership Coordinator at
aohmstede001@cfl.rr.com
.
NHE PARENT ENRICHMENT MEETING
October 22
Capturing the Attention of Your Active Learner
Guest Speaker Delia Poythress
From wiggly learners to children diagnosed with Sensory Processing Disorder, there are a multitude of techniques to get (and keep) children engaged in their learning. Through this workshop, you will learn about how to use what you already have to support everyday learning – regardless of the curriculum you choose! We will explore simple (and some fun) ways to increase your child's attention span throughout the day. Whether your child is a toddler or a teen, you will leave this session equipped with strategies you can implement immediately! (Time for asking questions and participating in breakout sessions will be included.)
Bio: Delia Poythress enjoys encouraging parents that are following God's call to homeschool, by sharing strategies she has learned through her experience as both a pediatric occupational therapist and a homeschooling mom of four. During almost 15 years as a pediatric occupational therapist, she has worked with children of all ages and ability levels, in settings from the Neonatal Intensive Care Unit to public, private, and charter schools. She loves to empower parents and children to strengthen their bond with each other while turning learning tears to learning cheers!
6pm- New to Homeschooling segment- room 5110
NEW (ER) TO HOMESCHOOLING?
Or just have some questions on the "next" step?
Join the conversation at 6pm before every monthly meeting.
Experienced moms will be available to help answer questions and connect you
to the people/resources you need.
Meet in room 5110 and bring your questions!
6pm- New to Homeschooling segment
6:30pm- Connect with other parents
7pm- Monthly meeting begins
Meetings are for adults unless otherwise indicated in the meeting description,
nursing babies always welcome!