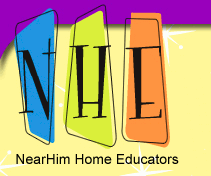 NEXT NHE MONTHLY MEETING
APRIL 24- Show and Tell (Curriculum Faves!)
Northland Church
Room 5108
6pm- New to Homeschooling segment
6:30pm- Fellowship
7pm- Monthly meeting begins
Meetings are for adults unless otherwise indicated in the meeting description, nursing babies always welcome!
For all those who "jump" at the chance to share their homeschooling ideas, you have the spotlight!
Bring (ONLY) one or two creative ideas to share with the group. This can be a living book that your children love, lapbook idea, arts and crafts, unit study idea, or any item that inspires you. You will have 3-4 minutes to share your item(s) with the group.
Everyone can participate.
BUT PLEASE SIGN UP AND TELL US WHAT YOU'RE BRINGING SO WE DON'T HAVE DUPLICATES.
Don't know what to bring? Ask your children what their favorites are
Afterwards your items can be placed on tables for everyone to peruse!
NEW (ER) TO HOMESCHOOLING? KNOW SOMEBODY THAT IS?
Or just have some questions on the "next" step?
Join the conversation at 6pm before every monthly meeting. Experienced moms will be available to help answer questions and connect you to the people/resources you need. Meet in room 4107 and bring your questions!
The NHE Board- Lucee, Michelle, Bethany, Katie, Beth, Dawn, Michele, and Amie would love to see you!