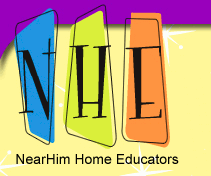 Homeschool Orientation Informational Workshop
March 27
6:30pm-9pm
Northland, room 4206 upstairs
Sign Up online on the Calendar
NEXT HOMESCHOOL SUPPORT GROUP MEETING
April 24- details coming soon
Northland Church
6pm- New to Homeschooling segment
7pm- Monthly meeting begins
Meetings are for adults unless otherwise indicated in the meeting description, nursing babies always welcome!
NEW (ER) TO HOMESCHOOLING?
Or just have some questions on the "next" step?
Join the conversation at 6pm before every monthly meeting. Experienced moms will be available to help answer questions and connect you to the people/resources you need. Meet in room 5110 and bring your questions!
NearHim Home Educators is a Christian homeschool support group which exists to support and encourage families whom God has called to the task of teaching their children at home. It is the desire of NHE to be a model of Christ's love and to serve the families of both NHE and the greater homeschooling community.
The families of NHE attend a variety of churches, yet we have a common bond: We desire to glorify God in all that we do in raising our children.
For information on activities, special events, fairs, co-op classes for Kindergarten through high school, member services, or field trips, please select the "NHE General Info" link on this page.
If you are interested in finding out more about NHE, you are encouraged to visit a monthly meeting, held on the fourth Thursday from August to May (3rd in November and May, off December) of the month at 6:30pm. Meeting formats vary between guest speakers, panel discussion and small group topics. Please no children, but
nursing babies are welcome.
BRING YOUR BOXTOPS TO EVERY MEETING! A collection box will be there. Boxtop fundraising go to NHE general membership activities budget.