About the Classroom Dashboard for Instructors
— DRAFT DOCUMENT —
Classroom Dashboards are new to all of us. Instructors are encouraged to contact the Instructor Liaison to share their feedback, suggestions, hints, edits, etc. for this guide.
---
About the Classroom Dashboard for Instructors
The Instructor Classroom Dashboard is a website resource for communication between instructors, students, and parents. It provides instructors with an easy way to email individual students and their parents, post class announcements and assignments, track student attendance, send a class reminder before the first day of classes, and encourage student discussions in the online class forum.
Contents
---
Accessing the classroom dashboard
Click "Classes" in the top menu bar.

You'll also find a link to the Classroom Dashboard in the sidebar menu as "My Family's Classes" under "Member Resources" and as "Classroom Dashboard" under "Classes."
If you cannot access your Classroom Dashboard, please contact the Instructor Liaison for assistance.
---
Navigating the classroom dashboard
First switch to Instructor view using the "Switch Dashboard View" dropdown menu in the upper right.

This brings you to a summary overview of all your classes.
Click the name of the class in the "My Classes" section to go to the Home Page for that class.

The Class Forum is the last item on the class's home page, so you may need to scroll down to find it.
Switch between home pages for different classes using the "Switch Class" dropdown menu in the upper right.
---
Class Announcements
Class Announcements are different from the Class Forum.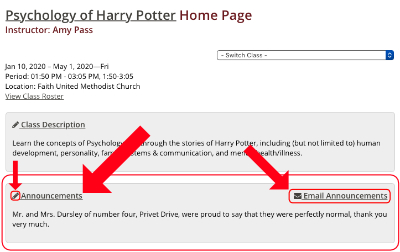 Class Announcements are meant to be brief. They are displayed on your class's home page after the Class Description. The text can be formatted, including hyperlinks and embedded images.
Students and parents cannot reply to a Class Announcement.
Announcements are not sent via email automatically. You have to click the "Email Announcements" option to send it via email. It will then be emailed to students, parents and all class instructor(s).
Even though it is called "Announcements" there is actually only one Announcement field that you revise and update as needed throughout the semester.
Click the pencil icon to the left of the Announcements header to create or edit your Announcements.
---
Class Assessments
To be written.
---
Class Assignments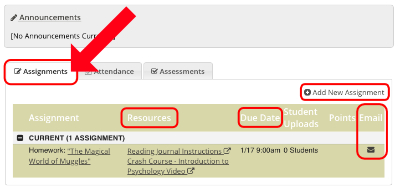 Assignments are created via the Assignments tab on your class's Home Page.
Assignments consist of a title, optional description for more details, an optional due date, and optional point values for graded assignments.
Assignments also have a category (or type). Homeschool-Life provides default categories, but you can create your own. Default categories include book report, exam, extra credit, homework, lab, quiz, term paper, test, etc.
After you have saved an Assignment, you can return to it to attach resources such as PDFs, Word, Excel, PowerPoint, images, videos, audio, webpages, or links to external websites.
You can enter all assignments for the semester and set "Hidden From Students Until" dates so that assignments are automatically revealed to your students throughout the semester.
Students can submit completed assignments by either uploading a file or providing a URL to their completed work (such as on their Google Drive).
Students can send you questions about an assignment using the "Comment" option, and you can comment on their submitted work. Comments will be sent as an email to the student, their parents, and you.
Helpful hint: When you click "Save and Add," Homeschool-Life saves the current information and then pre-populates the fields of a new form with the information from the one you just saved, which can be confusing but is intended to reduce your workload (on the assumption that assignments are often quite similar).
If you want to duplicate a previously saved assignment, click to open it for editing and scroll down to the bottom and click "Save and Duplicate."
---
Class Attendance
To be written.
---
Class Description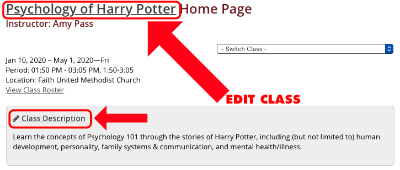 While instructors do have the ability to revise their class descriptions, any revisions should be made before registration opens.
Edit Class
Your class description is also part of the Edit Class page, which is accessed by clicking the hyperlinked name of your class at the top of your class's home page. The Edit Class page gives instructors a number of options:
If you want to write a pre-first-day Class Reminder Message to be automatically sent to all enrolled students, you can do that under the Registration tab of the Edit Class page. It's the last field on that page. Introduce yourself, welcome students to the class, remind them about any supplies they need to bring, etc.
There are specific fields to add information about any curriculum used or textbook needed for your class under the General Info tab.
Under the Resources tab, you can attach documents such as a supply list, course syllabus, or classroom policies as PDFs, Word, Excel, images, webpages, or links to external websites.
Use the Grading tab to select whether or not your class will be graded and your grading method. Grading is not common at PHS, and so "No Grading" is selected for all classes by default. If grading makes sense for your class, you do have the option to turn it on here.
You can use the Assessments tab to set up non-graded assessments. Homeschool-Life provides what they think an instructor might want to assess, but you are free to set your own.
Instructors can also change their class name, grade level, age range, and set the maximum and the minimum number of students, but these should be set before registration opens.
Instructors cannot change tuition or material fees, but there is an option here to send a message to the Lead Volunteers using the Finance tab.
---
Class Forum
Each class has a dedicated discussion forum. Students, parents, and instructors can post to the Class Forum.
You can access the Class Forum from either your Classroom Dashboard or via the Classes tab in the Member Forum.
Whether or not forum posts are emailed depends on the settings each family has chosen for the forum. Instructors should encourage families to check their forum email settings, which can be done via their member profile. Families may choose different settings for different forums.
Parents can set up independent logins for each student (and each parent) via their member profile, although they do not need to do so for their students to use the Forums.
---
Class Roster
The Class Roster link is harder to spot, but it's there in what you might call the homepage header section, under the class dates, times, and location, as "View Class Roster".
Click through to the class roster to email individual students and their parents. Just select the box in the "Email" column next to the family (or families) you wish to contact, then click the "Email" button at the bottom of the roster list. Once on the compose form, you can make further edits to the To and CC field and attach documents.
You can also export your roster as a comma-separated values (CSV) file for use in your favorite spreadsheet software.
---
How-To Videos from Homeschool-Life