25th Anniversary Reunion & Celebration
Add to Your Calendar:
10/22/2023 15:00
10/22/2023 19:00
America/Chicago
25th Anniversary Reunion & Celebration
25th Anniversary Reunion & Celebration
Planet Homeschool
Planet Homeschool
planethomeschoolmn@gmail.com
false
MM/DD/YYYY
aUinrLWZczwYavqgBmQP30959
Date – Time
Sunday 22 October 2023 – 3:00 PM - 7:00 PM

Location
Planet Homeschool
2708 33rd Ave NE
Saint Anthony Village, MN 55418 US
inside in the Fellowship Hall
outside at the picnic tables
Additional Information
2023–2024 is Planet Homeschool's 25th Anniversary!
Our co-op has been around for a quarter of a century! All current and former families and instructors are invited to come celebrate this milestone!
We will celebrate with a potluck, showcases from graduates (showcase participation is optional), and a Memory Book in PDF form (memory book participation is also optional).
Homeschooling is a family affair so this invitation includes our families — our spouses and our spousal equivalents, our children, our parents, guardians, and caregivers, etc.
Alumni Facebook Group Alumni Discord Server

Image: A colorful slice of rainbow layer cake with white frosting, rainbow candles, and sprinkles.. 2021. Photo by Katie Rainbow on Unsplash.
Attendees are encouraged but not required to contribute to the potluck (we do not want it to be an obstacle to attendance).
You may contribute a commercially prepared or homemade dish.
To help those with dietary restrictions, please bring a list of ingredients. If you are bringing a commercially prepared dish, please bring its packaging, too.
Don't forget your serving spoon (or fork or tongs or …).
Plates, bowls, cups, and utensils for dining will be provided.
The showcases will be very low-key (and participation is entirely optional), but we want our graduates to have the opportunity to show us what they've been up to since graduation!
In addition to short performances (about 3 minutes), we will make space to display static works as well.
The space has a piano and a small projection screen.
We would like to assemble a Memory Book (in PDF form) about our graduates — and we need your help to make that happen. For those who choose to participate, please share what you've been up to since graduating on this Google Form:
Attendees are encouraged to wear masks while indoors.
We will be making use of the picnic tables and setting up a few additional tables and chairs outside (how many will depend on final attendance numbers) for those more comfortable socializing outside.
Indoors, we will be using our co-op's Corsi-Rosenthal boxes for increased air filtration in the Fellowship Hall.
This is a PHS Alumni event, not a Planet Homeschool event, but all attendees should be aware that Planet Homeschool continues its longstanding tradition of striving to create a welcoming, inclusive, and safe space for all our families including for those at higher risk of becoming seriously ill from COVID-19, so choosing to wear a mask while indoors will be greatly appreciated.
Photos of the room where our 25th Anniversary Reunion & Celebration will be held. There are many more tables and chairs in the storage room.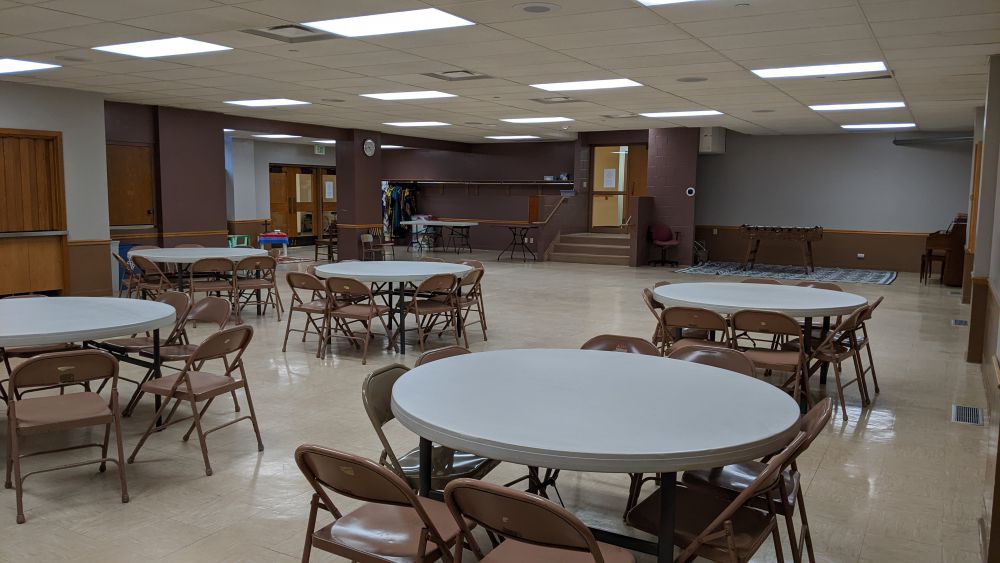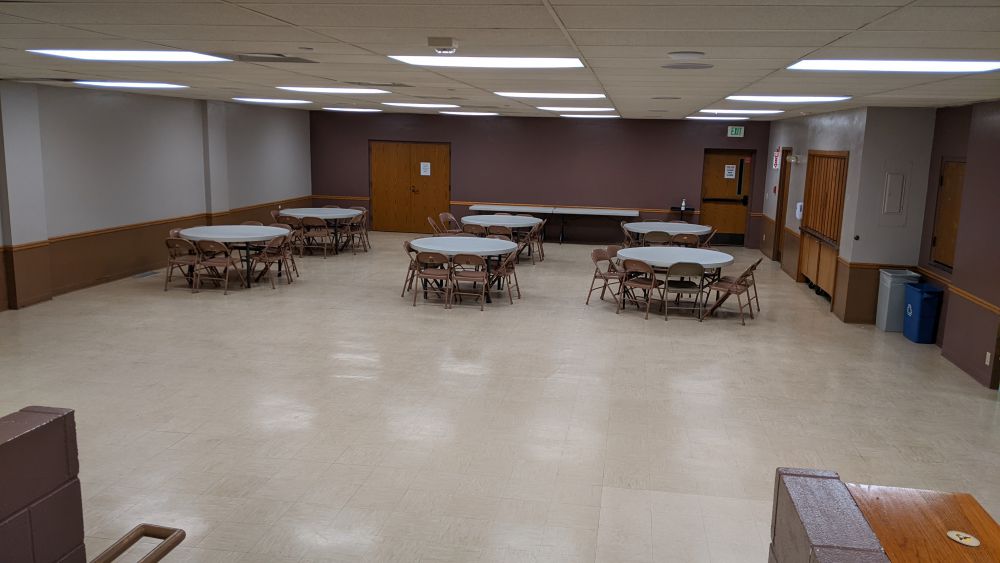 (These are photos of how our co-op wanted to leave the space at the end of PHS last spring — set up with a dance floor for a square dancing group that used the space on a different day.)
The Planet Homeschool Newsletter is for PHS Alumni and other interested community members to keep abreast of what's happening at Planet Homeschool (current members and instructors should check our co-op's forums to keep abreast of co-op news.).
Newsletters are sent sporadically. The primary topics are:
The mailing list signup form ask for your mailing address by default but you only need to provide your name and email address.
Planet Homeschool began weekly Thursday classes in Edina starting in the fall of 1999.
In 2007, Planet Homeschool moved from Edina to South Minneapolis.
In 2010, Planet Homeschool relocated to Northeast Minneapolis.
Planet Homeschool moved to its current location in Saint Anthony Village in 2013 and also switched from Thursdays to Fridays.
PHS is a Section 501(c)(3) nonprofit. Your donation may qualify as a charitable deduction for federal income tax purposes.
Sign up below! The signup form includes two optional fields:
If you know what you'll be bringing for the potluck, you can let the organizers know, too. (It's also okay if you don't know yet!)
If you wish to participate in the low-key showcase, let the organizers know what you plan to do and how much time you need (or how much space if you want to do an exhibit / display).
The invitation says to RSVP, but this website is only able to accept positive responses. You'll need to email your regrets. Our apologies for the inconvenience!
Signups
Signup is currently closed.
Email the Event Coordinator – nic.rosenau+phs@gmail.com,planethomeschoolmn+reunion@gmail.com